After having all your visa issues sorted out, you must obtain a few documents to live and work legally in the country.
You can find below a short description of the main documents you must get to be able to open bank accounts, open companies, get a Brazilian driving license and others.
CPF - Cadastro de Pessoas Físicas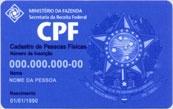 A Brazilian CPF card
CPF stands for (Cadastro de Pessoas Físicas) and is a taxpayer identification number issued to Brazilians and foreigners individuals that pay taxes in the country. The CPF is issued by the Federal Revenue of Brazil, and is required to register your company and live in Brazil. You will be required to have this number when you are for instance opening a bank account, getting a loan and getting a driving license.
Acquiring a CPF is simple and you will usually receive the number relatively fast. If you are in Brazil, all you have to do is to go to Banco do Brasil, Caixa Econômica Federal or a post office with the required documentation and pay a small fee. The Brazilian Consular Service also provide the service if you are abroad.
To learn more about how to get a CPF number, visit the Secretariat of Federal Revenue information pages. If you would like to have our assistance to obtain a CPF number, please contact us. We will be pleased to guide through the process and make sure you will have your CPF number in hands as fast as possible.
CTPS - Carteira de Trabalho e Previdência Social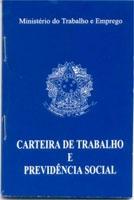 A Brazilian CTPS book
The CTPS is the work and social security register book that is essential for foreigners workers under a dependency relationship with a Brazilian entity.
The document will be granted to workers that have either temporary, asylum or permanent visas, and will be valid for the same period as the visa.
Information about salary, employer, type of job and others are recorded in this book.
RNE - Registro Nacional de Estrangeiros
RNE is the Brazil alien identification card for foreigners issued by Polícia Federal (Federal Police), and is also referred as CIE (Carteira de Identidade de Estrangeiro). All foreigners that have a permanent, temporary or asylum visas must apply for a RNE within 30 days of arrival in the country.
The RNE is one of the most important documents foreigners have in Brazil and will be requested very often - for example to open bank accounts. The document must also be presented to the immigration authorities when the foreigner enters of leaves the country.