Telephone System in Brazil
It's easy to get confused when trying to call in Brazil or are trying to look-up a Brazilian telephone number. This guide give a short introduction on how the phone system is structured and how you can navigate your way trough the phone system.
Infrastructure
Each state in Brazil have multiple landline operators with license from Anatel (Agência Nacional de Telecomunicações). The only landline operator you can find throughout the country is Embratel.
All regions have their own geographical prefix and each carrier / land line operator have their own prefix which complicates long distance calls.
Numbering
All Brazilian phone numbers have the format nnnn-nnnn. The only exceptions are the public utility service numbers that have only three digits and special 11-digit numbers. All telephone numbers starting on 2 to 5 are landlines while 6 to 9 are mobile phones. The 8-digit numbers starting on 400 are excepetions. These are non-geographic numbers and can be used throughout the country without area or carrier prefix.
Special 11 digits numbers in use, these are:
0300-nnn-nnnn - Flat rate calls
0303-nnn-nnnn - Televoting
0500-nnn-nnnn - Premium-rate
0800-nnn-nnnn - Toll-free
0900-nnn-nnnn - Premium-rate
Telephone number prefixes
In Brazil you need to specify both the carrier prefix and the geographical prefix when dialing long distance calls. Not all carriers are able to handle calls from all states, but here you have the most common carrier prefixes:
12 - CTBC
14 - Brasil Telecom
15 - Telefónica
21 - Embratel
23 - Intelig
25 - GVT
31 - Oi
41 - TIM
Embratel is the only carrier that still offers operator-assisted long-distance calls. The operators can be contacted by calling 0800-703-2110.
The map below shows the geographical prefixes.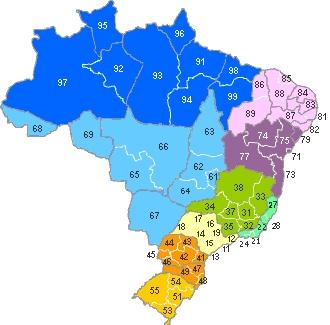 How to call from Brazilian phone number
By now we should have enough information to actually make a phone call. To call internally within the same geographic prefix is easy. You can simply dial the 8-digit phone number (nnnn-nnnn).
If you are going to make a long distance call to another geographic area code you have to dial 0 + carrier prefix + geographical prefix + 8-digit phone number.
Example:
If you calling telephone number 1234-5678 in São Paulo this would typically be written (11) 1234-5678, but in fact you have to dial 0 31 11 1234 5678 (if you use Oi as carrier).
To make international calls you should follow the same procedure. You have to dial 00 + carrier prefix + country code + phone number. Note the double zero in the beginning of the number.
Example:
Suppose you are calling telephone number 12131415 in Norway. This would typically be written in the format +47 12131415 but you have to dial 00 31 47 12131415 (if you use Oi as your carrier).
How to call a Brazilian phone number
If you are calling from abroad to a Brazilian phone number you don't need to worry about phone carriers. You will normally see Brazilian phone number for use abroad in this format: +55 (11) 1234-5678. You can dial this number as any other international number, 005511 1234 5678 from most countries or 011 55 11 1234 5678 from USA.
How to look up a Brazilian phone number
There isn't any central telephone directory service where you can inquiry any Brazilian phone number. All landline telephone companies offer on-line directory inquiries on their Web sites, but only for their own customers. You can find some of them here:
Mobile phone numbers are not available for inquiry due to privacy and security reasons.
Yellow Pages Brazil
It does no longer exist any Yellow Pages in Brazil even though the search phrase "Yellow Pages Brazil" give you more than 2 million hits in Google.
iLocal and Guia Mais are two online resources that are similar to the Yellow Pages service that you find abroad.